Sometimes, your smile is not quite what you hoped for. Maybe your teeth are stained or discolored, or maybe they are not straight, or you are missing one or two. Perhaps you have gum disease, which has caused its own set of problems.
Whatever has caused it, there is something that you can do about it: restorative dentistry.
It's something we can help you with here at Paso Robles, California. We know how important your smile is, and there are plenty of restorative dentistry procedures that we can carry out to help you achieve that perfect smile.
But what exactly is restorative dentistry, and what does it entail?
As the name suggests, restorative dentistry aims to restore a functioning and healthy smile after damage caused by tooth decay, damage or tooth loss. There are various procedures available, which can be discussed once we have taken a look at your teeth as they are now. 
Some of the restorative dentistry procedures in Paso Robles that we can offer include: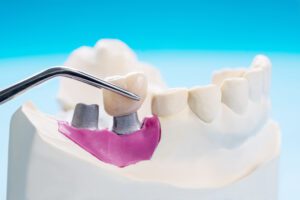 Dental bridges: If you have one or more missing teeth, a dental bridge may be appropriate for you. The aim of these is to replace missing teeth and restore and improve the appearance of your smile. It also holds your other teeth in place. It is a permanent solution; the bridge is anchored into place with dental crowns , custom made for you. These crowns hold the artificial teeth or tooth in place, so that it will not come loose or fall out easily. The benefits of this procedure is that it enables you to eat, speak and chew normally and improves the shape and volume of your face.

Dental fillings: Fillings are one of the most common restorative dental procedures. General tooth decay causes cavities to the teeth and compromises your oral health. A filling will restore the tooth and prevent further problems, reducing the chances of tooth loss.

Dental implants: Another solution to missing teeth is a dental implant, and this does not just replace the crown of your tooth, but the root as well, allowing something that feels and functions much more like a natural tooth

Dentures: If you are missing most or all of your teeth, dentures may be the option that is for you. It brings back your full smile and allows you to eat, chew and talk as you did once before

Tooth extraction: Occasionally, we cannot save a tooth, as much as we try, and an extraction is necessary in order to protect the rest of your teeth or because it is simply beyond being able to be repaired. We can take a look, x-ray your mouth and talk to you about your options.
Here at Paso Robles Dental, we are proud to offer all of these restorative dentistry procedures and more in Paso Robles, CA, to make sure you have a smile that looks and feels great. If you want to talk to one of our dentists, give us a call or drop in and we can talk to you about the solutions available to you.