Welcome to Paso Robles Dental Care! We are Paso Robles' Dental Implant Experts! We are committed to providing excellence in dentistry, where our patients say Dr. Holbrook is the best dentist in Past Robles. The doctors use the latest in dentistry techniques to provide you with a beautiful and healthy smile. Additionally, Paso Robles Dental Care believes strongly in education to prevent oral health problems before they occur, and makes sure to keep patients fully informed about their dental health. Read more about our dentists below.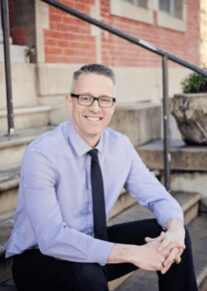 Von Holbrook, DDS "Dr. Joe"
My name is Dr. Von J. Holbrook, but please call me Dr. Joe. I grew up on the Central and South Coast. After graduating high school and choosing to serve as a missionary in the Dominican Republic for two years, I attended UC Santa Barbara. I then graduated from The University of the Pacific School of Dentistry in San Francisco. It is a pleasure to serve the people in this area. I require my dentistry to be at the highest standard. My passion for dentistry can be demonstrated by involving the patient in the decision-making process, and I strive to make visits to the dentist pleasant and as stress-free and fun as possible!
I married my beautiful high school sweetheart, Geri, and we have 4 children. I enjoy working out, basketball, rooting for the Lakers, coaching and watching my kids in their sports, spending time with my wife, and playing Connect Four with my son. I am thankful for the relationships I have with my patients and with members of the community. It brings me joy to serve our community in the English and Spanish languages.